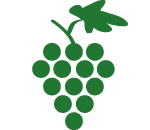 Table Grape
Plants propagated in soil for an entire growing season. They are mechanically pulled up in the winter dormant season. They are classified according to size and quality standards based on root development and shoot diameter.
They are preferably established in the vineyard in the winter or early spring. Transport is easy and cheap. The plantation is very fast and suffers little loss. It is possible to keep them stored in the refrigerator until late spring, offering great operational flexibility to the grower.
The generic plants are shipped in packs of 20 units, after sizing and pruning of shoots. Grafted plants are pruned shorter and are re-waxed to protect their buds and wood. The roots are disinfected and pruned to 15 cm. long to make planting easier and prevent curl. They are packed in cardboard boxes that include a bag to prevent dehydration. Then the boxes are palletized and stored in refrigerator until shipment.
Plants grown in 2 liter containers for a period of three to four months. Substrates are used which are treated with steam and then irrigated with deep well water. The shipment begins when the variety has a minimum shoot length of 25 cm. With this product, it is possible to perform spring and summer planting, being a good complement for winter planting.
The generic plants are shipped as of October and the grafted plants as of November.