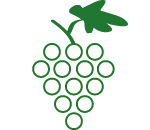 Wine-Making Grapes
| | | |
| --- | --- | --- |
| VARIETY | CLON | AVAILABILITY |
| ALICANTE BOUCHET | 803 | AVAILABLE |
| ARINARNOA | 723 | AVAILABLE ON 2019 |
| CABERNET FRANC | 214 | AVAILABLE |
| CABERNET FRANC | 327 | AVAILABLE |
| CABERNET FRANC | MERCIER | AVAILABLE |
| CABERNET SAUVIGNON | 15 | AVAILABLE |
| CABERNET SAUVIGNON | 169 | AVAILABLE |
| CABERNET SAUVIGNON | 170 | AVAILABLE ON  2019 |
| CABERNET SAUVIGNON | 337 | AVAILABLE |
| CABERNET SAUVIGNON | 338 | AVAILABLE ON 2019 |
| CABERNET SAUVIGNON | 341 | AVAILABLE |
| CABERNET SAUVIGNON | 412 | AVAILABLE ON 2017 |
| CABERNET SAUVIGNON | 685 | AVAILABLE ON 2019 |
| CARIGNAN | 65 | AVAILABLE ON 2019 |
| CARIGNAN | MERCIER | AVAILABLE ON 2017 |
| CARMENERE | 80104 | AVAILABLE |
| CARMENERE | 80113 | AVAILABLE |
| CARMENERE | 80212 | AVAILABLE |
| CARMENERE | 80309 | AVAILABLE |
| CARMENERE | 80312 | AVAILABLE |
| CARMENERE | 80409 | AVAILABLE |
| CARMENERE | MERCIER 1 | AVAILABLE |
| CARMENERE | MERCIER 2 | AVAILABLE |
| CINSAULT CLONE | 92 | AVAILABLE |
| GRENACHE | 136 | AVAILABLE |
| GRENACHE BLANC | 141 | AVAILABLE ON 2019 |
| GRENACHE BLANC | 143 | AVAILABLE ON 2019 |
| GRENACHE NOIR | 434 | AVAILABLE |
| MALBEC | MERCIER | AVAILABLE ON 2017 |
| MALBEC | 398 | AVAILABLE |
| MARSELANE | 980 | AVAILABLE |
| MERLOT | 181 | AVAILABLE |
| MERLOT | 346 | AVAILABLE |
| MERLOT | 347 | AVAILABLE |
| MERLOT | 348 | AVAILABLE |
| MERLOT | 349 | AVAILABLE |
| MOSCATEL DE HAMBURGO | 967 | AVAILABLE ON 2019 |
| MOURVEDRE | 369 | AVAILABLE |
| NIELUCCIO | 903 | AVAILABLE |
| PETIT VERDOT | 400 | AVAILABLE |
| PETIT VERDOT | MERCIER | AVAILABLE |
| PINOT NOIR | 115 | AVAILABLE |
| PINOT NOIR | 292 | AVAILABLE ON 2017 |
| PINOT NOIR | 375 | AVAILABLE ON 2017 |
| PINOT NOIR | 665 | AVAILABLE ON 2017 |
| PINOT NOIR | 828 | AVAILABLE ON 2017 |
| PINOT NOIR | 943 | AVAILABLE |
| SEGALIN | 745 | AVAILABLE |
| SYRAH | 470 | AVAILABLE |
| SYRAH | 524 | AVAILABLE |
| SYRAH | 525 | AVAILABLE |
| TANNAT | 475 | AVAILABLE |
| | | |
| --- | --- | --- |
| VARIETY | CLON | AVAILABILITY |
| CHARDONNAY | 76 | AVAILABLE |
| CHARDONNAY | 95 | AVAILABLE |
| CHARDONNAY | 121 | AVAILABLE ON 2017 |
| CHARDONNAY | 124 | AVAILABLE ON 2017 |
| CHARDONNAY | 130 | AVAILABLE |
| CHARDONNAY | 548 | AVAILABLE |
| GEWURZTRAMINER | 47 | AVAILABLE |
| MARSANNE | 574 | AVAILABLE |
| MOSCATEL DE ALEJANDRÍA | 1014 | AVAILABLE ON 2019 |
| MUSCAT BLANC | 454 | AVAILABLE |
| PEDRO JIMENEZ | LM4 | AVAILABLE ON 2019 |
| PETIT MANSENG | 440 | AVAILABLE |
| PINOT GRIS | 53 | AVAILABLE |
| PINOT MEUNIER | 925 | AVAILABLE ON 2017 |
| PINOT MEUNIER | 977 | AVAILABLE ON 2017 |
| PIQUEPOUL | 237 | AVAILABLE ON 2019 |
| ROUSANNE | 522 | AVAILABLE |
| SAUVIGNON BLANC | 159 | AVAILABLE |
| SAUVIGNON BLANC | 242 | AVAILABLE |
| SAUVIGNON BLANC | 317 | AVAILABLE |
| SAUVIGNON BLANC | 530 | AVAILABLE |
| SEMILLON | 315 | AVAILABLE |
| SEMILLON | 908 | AVAILABLE |
| SEMILLON | 910 | AVAILABLE |
| VERDEJO | 101 | AVAILABLE |
| VERMENTINO | 640 | AVAILABLE |
| VIOGNIER | 642 | AVAILABLE |
Also called "bare root" grapevines. Plants propagated in soil for an entire growing season. They are mechanically pulled up in the winter dormant season. They are classified according to size and quality standards based on root development and shoot diameter.
They are preferably established in the vineyard in winter or early spring. Transport is easy and cheap. Planting is very fast and suffers little or no loss when done correctly. It is possible to keep them stored in the refrigerator until late spring, offering great operational flexibility to the grower.
Plants grown in 2 liter containers for a period of three to four months. Substrates are used which are treated with steam and then irrigated with deep well water.
The shipment begins when the variety has a minimum shoot length of 20 cm and root development to provide adequate anchoring of the substrate. With this product, it is possible to plant in the spring and summer, being a good complement to winter planting.