Pear Trees
Main Rockstock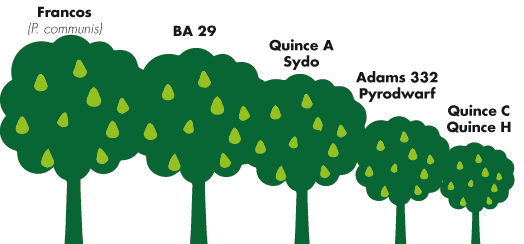 Increased precocity, decreased vigor, productive stability, uniform orchards, best size and quality of fruit, among others, are part of the main objectives to be achieved when deciding which rootstock will be used in replanting. In order to meet our customers' requirements, Univiveros® has the following rootstocks at its disposal:
Quince rootstock of French origin. Has higher productivity than generic rootstock but with less vigor. It is not recommended for intensive orchards.
Abundant root system which provides good anchorage; is not recommended for clay soils and tolerates root aphids well.
Generally used for varieties with little vigor and which are located in poor soils.
Quince rootstock of French origin and widely used in that country.
It is highly productive, improves the fruit size and reduces the vigor making it useful in semi-intensive orchards.
Best dwarfing rootstock for pear trees. It has a great ability to induce precocity and high density crop load. It is used in intensive orchards at densities of 1,500-1,700 trees/ha.
Weak to regular anchoring, so it is necessary to use structure.
Soil, climate, and management requirements superior to other quince trees, so it should be planted with optimum irrigation, nutrition, and weed control management only.